Wie die zahlreichen Pseudo-Anglizismen zeigen (man denke nur an "Handy" und "Beamer") führt uns die englische Sprache immer wieder gerne auf falsche Fährten. Ein großartiges Beispiel ist der folgende Ausdruck:
to give somebody the runaround / to get the runaround
Bedeutung; jemanden mit einer Serie von Ausreden, Verzögerungen oder Verweisungen hinhalten
Auch wenn sich "running around" mit "herum rennen" übersetzen lässt, das Substantiv "runaround" bezieht sich auf eine geistige Aktion. Der physische Aspekt lässt sich aber immer noch erkennen: Man wird von Gesprächspartner gedanklich in immer wieder andere Richtungen geschickt.
Vielleicht weil der Ausdruck impliziert, dass man am Ende nicht weiterkommt, wird er häufig – fälschlicherweise – mit "von Pontius zu Pilatus laufen" übersetzt. Bei dieser Redewendung steht jedoch die physische Handlung im Vordergrund. Dies wird besonders an ihrem Ursprung deutlich, der sich im biblischen Evangelium nach Lukas findet: Als Jesus dem römischen Statthalter in Judäa, Pontius Pilatus, vorgeführt wird, schickt dieser den galiläischen Angeklagten weiter zu Herodes Antipas, Tetrarch von Galiläa und somit zuständig in diesem Fall. Herodes hält Jesus für unschuldig, will ihn aber auch nicht freisprechen und schickt ihn somit zurück zu Pontius Pilatus. Dieser ist ebenso nicht von Jesus' Schuld überzeugt, beugt sich aber dem Druck der Gesellschaft und verurteilt ihn. Noch heute findet die Redewendung häufig im Zusammenhang mit bürokratischen Prozessen Verwendung (z.B. wenn man von einer Instanz zur nächsten geschickt wird), ist aber nicht darauf beschränkt. Herausgestellt wird die Erfolglosigkeit des Unternehmens: Am Ende ist man wieder am Ausgangspunkt.
Die entsprechende Übersetzung für diese Redewendung wäre: going from pillar to post (wörtlich: von Säule zu Pfosten)
Zwar impliziert der Ausdruck in keiner Weise, dass man zum Ausgangspunkt zurückkehrt, betont aber gleichermaßen, dass man sich von A nach B bewegt, um etwas zu finden/zu erhalten, letztendlich aber nicht weiterkommt. Der Ursprung dieser englischen Redewendung ist nicht klar. Es gibt verschiedene Theorien, die aber alle nicht wirklich überzeugen.
Sprachlich erschließen sich die deutsche und die englische Redewendung dagegen gleich: Im Deutschen wird eine illusorische Distanz zwischen dem Vor-und Nachnamen kreiert, aber da es sich immer noch um nur eine Person handelt, ist alles zwischen diesen beiden Teilen ohne Bestand. Der englische Ausdruck erzielt einen ähnlichen Effekt, indem er sich zweier Synonyme bedient: "Pillar" und "post" beschreiben beide pfahlartige Stützen. Jegliche Distanz, die scheinbar zwischen diesen beiden Begriffen zurückgelegt wird, ist unbedeutend. Der künstlich hergestellte Abstand in diesen beiden Redewendungen betont die Sinnlosigkeit der darin vorhandenen Aktionen.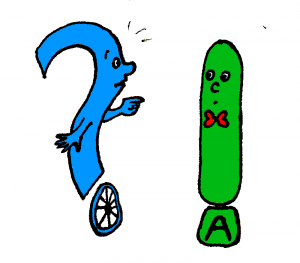 For an English discussion, go here.