Der Umgang mit Redewendungen ist eine besondere Herausforderung für jeden Übersetzer. Wortwörtlich übersetzt ergeben sie in der Zielsprache möglicherweise keinen Sinn mehr, und wählt man eine neutrale Übersetzung ändert sich möglicherweise der Stil oder auch die Atmosphäre, die der Originaltext übermitteln will. Ungeachtet dieser Schwierigkeiten sind aber gerade Redewendungen die Schatzkiste einer jeden Sprache, weil sie so viel über die Leute, deren Denkweisen und Lebensarten aussagen.
Nehmen wir z.B. die folgende Redewendung:
To be like a (dying) duck in a thunderstorm (wörtlich übersetzt: Wie eine (sterbende) Ente im Gewitter)
Bedeutung: niedergeschlagen, hoffnungslos oder entmutigt sein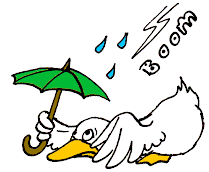 Es gibt in der Tat eine alte deutsche Variante: "wie eine Ente/Gans wenn's donnert", die aber einen verblüfften oder überraschten Gesichtsausdruck beschreibt und sich deshalb nicht als Übersetzung eignet.  Beide Redewendungen haben aber denselben Ursprung, und zwar in einem Aberglauben, wonach Enten vom Donnerknall als besonders betroffen galten.
Eier müssten vor dem Lärm geschützt werden oder es würden keine Küken schlüpfen. Ebenso sollten Gewitter das Sterberisiko bereits geschlüpfter Küken erhöhen. Angeblich rollten diese Küken vor ihrem Tod die Augen, was einen verblüfften Ausdruck hervorrief. Die englische Redewendung bezog sich zunächst auf dieses Augenrollen und vermittelte eine ähnliche Bedeutung wie die deutsche. Das änderte sich aber mit der Zeit hin zu einem Ausdruck der Niedergeschlagenheit, Mut- oder Hoffnungslosigkeit.
(Quelle: Minard, Antone. Western Folklore, Vol. 69, No. 1, Winter 2010, zu finden hier)
Manchmal sehe ich auch die Übersetzung "wie ein Ochse vorm Berg" oder "wie eine Kuh vorm (neuen) Scheunentor, die aber meiner Meinung nach noch weniger passt. Hier wird ausgedrückt, dass man nicht weiter weiß bzw. sich die Lösung eines Problems einem nicht erschließt. Der Ochse oder die Kuh bleibt stehen, bis man sie weiterführt, also Hilfestellung leistet. Der Aspekt der Hoffnungslosigkeit oder Niedergeschlagenheit fehlt dabei.
(You'll find an English discussion of this topic here)